Recipes
Harvest Vegetable Soup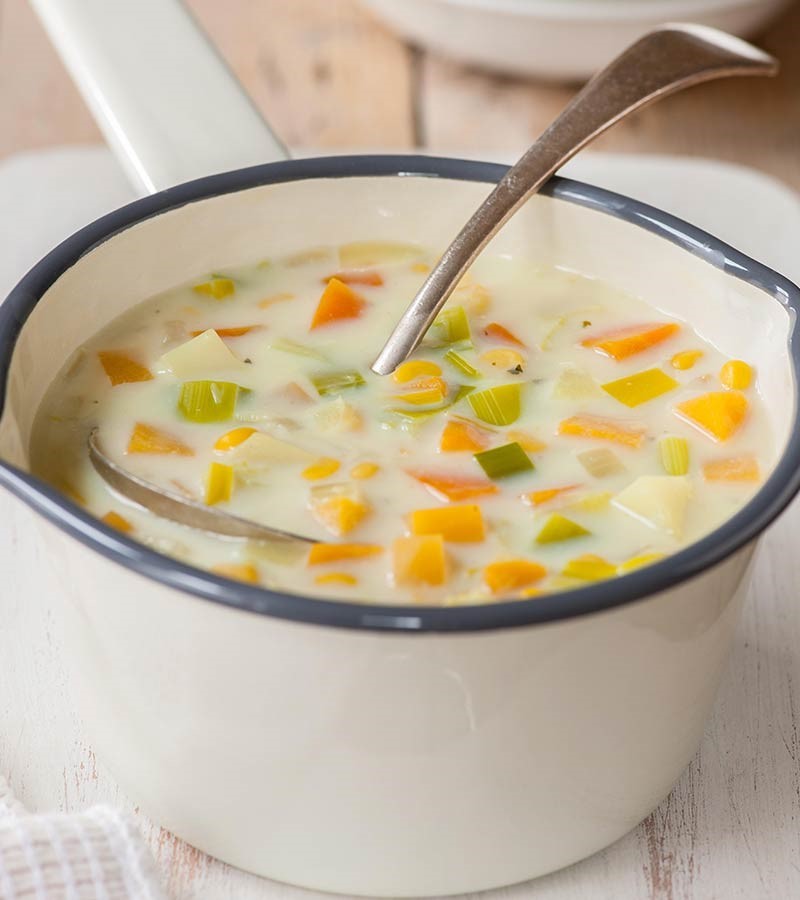 You will need:
1 medium-sized onion, finely chopped
1 leek, trimmed and sliced
1 carrot, diced
200g swede or turnip, diced
1 medium-sized potato, diced
400ml reduced-salt vegetable or chicken stock
1 tbsp cornflour
600ml 1% fat milk
75g sweetcorn
1 pinch ground black pepper
4 wholemeal rolls, to serve
Method
1
Put the onion, leek, carrot, swede or turnip, potato and stock into a large saucepan. Bring to the boil, then reduce the heat and simmer, partially covered, for 25 minutes, until the vegetables are tender.
You could use butternut squash instead of swede or turnip, if you prefer.
2
Blend the cornflour to a smooth paste with 2-3 tablespoons of the milk. Add the remaining milk to the saucepan with the sweetcorn, then stir in the blended cornflour. Heat gently, stirring constantly, until the soup thickens and just begins to boil.
3
Season with black pepper and ladle into bowls. Serve each portion with a wholemeal roll.
Cool the soup and store in a covered container for up to 3 days, or freeze for up to 3 months.
Chicken Drummers.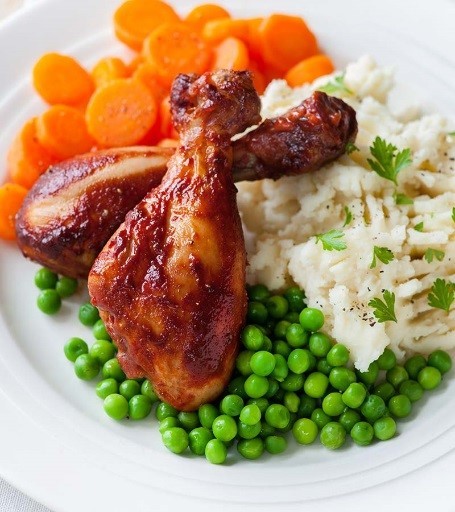 2 tsp tomato purée
2 tsp reduced-salt soy sauce
2 tbsp lemon juice
8 skinless chicken drumsticks
880g potatoes, peeled and cut
into chunks
4 (or 320g) carrots, sliced
320g frozen peas
4 tbsp 1% fat milk
1 pinch ground black pepper
Method
1
Put the tomato purée, reduced-salt soy sauce and lemon juice into a mixing bowl (not a metal one). Mix well and season with black pepper. Add the chicken drumsticks, turning to coat them in the mixture. Cover and refrigerate for at least 30 minutes, or overnight if preferred.
Chicken skin has a high fat content, so that's why it's best to remove it.
2
When ready to cook, preheat the oven to 200°C/fan oven 180°C/gas mark 6. Arrange the drumsticks in a foil-lined roasting tin and roast for 30 minutes, brushing them with the remaining glaze after 20 minutes.
3
While the chicken is roasting, boil the potatoes and carrots in separate saucepans until tender - they will take about 20 minutes. Put the peas on to cook in a little boiling water, 5 minutes before the chicken is ready.
4
Drain and mash the potatoes, beat in the milk and season with black pepper. Serve with the chicken drumsticks, carrots and peas.
Try making mash with a mixture of potatoes and butternut squash for a different flavour.
Pancakes With Caramelised Apple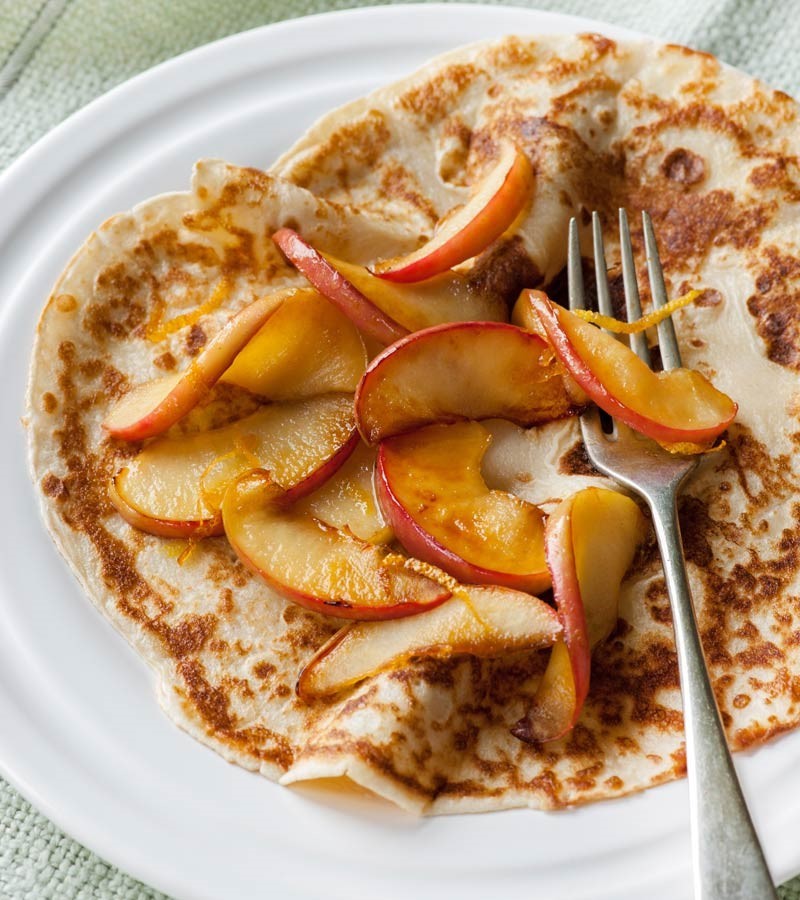 75g plain flour
1 medium egg
200ml semi-skimmed or 1% fat milk
2 tsp vegetable oil
1 eating apple, cored and thinly sliced
1 tsp caster sugar
finely grated zest and juice of 1 lemon
Method
1.
Put the flour into a large jug or mixing bowl. Add the egg and milk and beat with a wire whisk or a hand-held electric beater to make a smooth batter.
You could use half plain and half wholemeal flour to get more fibre into your diet.
2
Heat a pancake pan or non-stick frying pan. Add 2-3 drops of vegetable oil. Pour in a quarter of the batter, and tilt the pan so that it flows evenly over the surface. Cook over a medium heat for 1-2 minutes until set, then flip over to cook the other side. Make 4 pancakes in total, adding 2-3 drops of oil to the pan for each one. Keep the pancakes in a warm place until all of them are cooked.
If you have time, leave the batter to stand for 10 minutes, though stir before adding to the pan.
3
Heat the remaining oil in the frying pan and add the apple slices, cooking them over a medium-high heat for 3-4 minutes, and turning often. Sprinkle the sugarover them and cook for another few moments until lightly browned. Add the lemon zest and juice, stir to coat, then remove from the heat.
If you like, add a sliced banana to the frying pan with the lemon zest and juice, and mix with the apple before sharing between the pancakes.
4
Serve one pancake per person, topped with the caramelised apples.